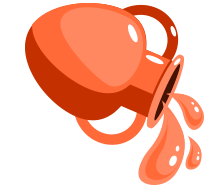 aquarius
Personal Life : You will feel in the mood to flirt, and you are definitely in the mood for love. Just stay away from deceitful Libra signs, because they don't have true or frank intensions with you.
Profession : You will be very productive, very efficient and very focused on what you need to do in order to better yourself as an employee.
Health : Your health is good, but you need to look out for insect bites. You might have an allergic, or just a bad reaction to them. Protect yourself in any way that you can
Travel : If you are making a small commute today, you will have lots of fun. However, public transport will cause you a bit of anxiety.
Luck : You are going to be the luckiest person today! Financial luck and personal luck is making its way to you.
Emotions : With the Moon, the planet that governs emotions, in truthful Capricorn, you will feel completely in your element today. You will feel good in almost every aspect of your life, especially work.